The fact is, we are always looking for new ways to make our lives easier and more efficient in this fast-paced world of ours. And because the limits of human imagination know no bounds and the internet makes everything accessible to everyone, it's never been easier to find innovative and useful products from the comfort of your home.
Whether you're on the hunt for a present for a loved one or a little something special for yourself, we have you covered with 13 products that you didn't know you needed until now. Go ahead and take a look at our selection! From the weird to the downright genius, we're sure you'll find there's something for everyone.
Charcuterie board. Is a party even a party these days if you don't have a social media-worthy charcuterie board on display? This contemporary and stylish charcuterie board provides the wow factor you're looking for with any party presentation.
It's made of slate and is durable and versatile so that you can use it indoors or outdoors. Use the chalk to label your cheeses, meats, or spreads with their names for easy identification.
Entertaining has never been more simple with this deliciously handy charcuterie board by your side for an effortlessly sophisticated feel. Your guests won't be able to resist those delicious morsels when they appear beautifully laid out on such an irresistibly unique serving board like this one. This delightful platter is a must-have kitchen accessory. The next gathering can't come soon enough!
Cactus Margarita Glasses. Imagine sharing an ice-cold margarita with friends while sitting on a Mexican tropical beach. Who says you can't have the vacation experience in the comfort of your own home? Take your favorite drink wherever you are, even if it's just in your kitchen!
The perfect way to celebrate any special occasion with family and friends, these festive margarita glasses will turn every meal into a tropical feast. Or why save them for parties? You can also spice up a night in watching your favorite film with a fancy drink. These beautiful glasses come with a cactus stem, are dishwasher-safe and durable, so they are sure to be treasured for years after your first sip.
Meat Claws meat shredders. Why cut meat with a boring knife when you can shred it in an instant with your bare hands? Channel your inner Wolverine and impress your friends at any barbecue with these magnificent Meat Claws.
With a simple tug on the claws, you'll be able to break through any obstacle made of meat. The sharp teeth grip onto the meat bits and tear them from one another with ease.
These ingenious devices will make every meal prep an exhilarating task that the whole family can participate in. Shred anything in 5 seconds flat with these meat claws; these bad boys do all the hard work for you. Great for making pulled meat sandwiches, stir-frys, kebabs, or tacos. The possibilities are endless (and delicious).
Get shreddin' today with these fantastic new Meat Claws!
Wine Caddy. This is the lifehack that wine lovers everywhere have been waiting for.
For the days when you want a wine bar experience but would rather stay in, now you can have the convenience of a portable caddy that accommodates wine, drinks, and snacks for easy access to all your guests.
This wine caddy has everything you need for a cozy night in, so you don't have to make any more awkward trips back and forth from the kitchen to the living room or backyard. Conveniently holding up to two bottles along with four stemmed wine glasses, this ultimate companion features removable ceramic serving dishes for your crackers, nuts, cheese, dips, or whatever snacks you want to accompany your wine.
This elegant wine caddy is the perfect accessory for any special occasion, whether it's a party with friends or just you and date night. You'll never have to cry over spilled wine again.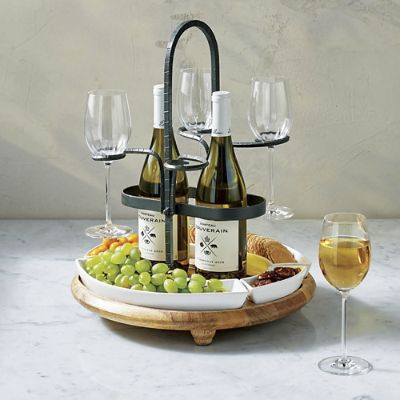 Self-cleaning water bottle. Finally, a bottle that does your dirty work for you! Never again worry about having safe, clean drinking water with this self-cleaning water bottle.
Amazingly innovative, the self-cleaning water bottle will keep you fresh and worry-free with its UV technology so that you can take on the day with confidence. The LARQ bottle gives you clean, sanitized drinking water right in the palm of your hand.
This self-cleaning water bottle kills bacteria and viruses with UV light. It couldn't be simpler; just press a button to get fresh, clean water in only 60 seconds. And thanks to the self-cleaning function, the bottle activates itself every 2 hours, so you don't have to do a thing to have clean, stink-free water always at hand. It lasts up to one month on a single full charge, so you don't have to worry about losing power.
Regardless of whether you're going on a hike on a hot summer day or just sipping water at your desk, the high-quality double-wall vacuum insulation ensures that crisp cold H2O is always readily available when you need it most.
Blue Light Blocking Glasses. Whether you're spending hours binge-watching on Netflix, hard at work, or scrolling through your feeds, people on the internet need relief. Constant exposure to the blue light emitted by our screens can throw off our body clock and natural circadian rhythms, making it more difficult to fall asleep at night and rest when we need to.
These blue-light-blocking glasses are built for people who spend long periods of time in front of digital screens and will make sure that you sleep soundly and feel refreshed upon waking up. And as well as helping you enjoy a night of better sleep, their UV400 protection and glare reduction means that you'll have more comfortable viewing during the day, too, helping to reduce eye fatigue and visual discomfort.
Contemporary modern design makes this eyewear both practical and fashionable. Made of flexible, lightweight material, they're durable and comfortable enough to wear all day long.
Friends Peephole Picture Frame. Because no one told you life was going to be this way, and sometimes it feels good to indulge in a bit of nostalgia. Now you can buy a reproduction of the frame that bordered the peephole in Monica's apartment on Friends. Hang it on your door to bring back memories of your beloved TV show every time you step outside. Or it can also perch on your dresser to frame your favorite photograph or hang dotingly on your wall.
One of the most iconic artifacts in the world, this beautiful piece of memorabilia is an ode to TV's most feel-good series and a perfect gift for any fan of Friends.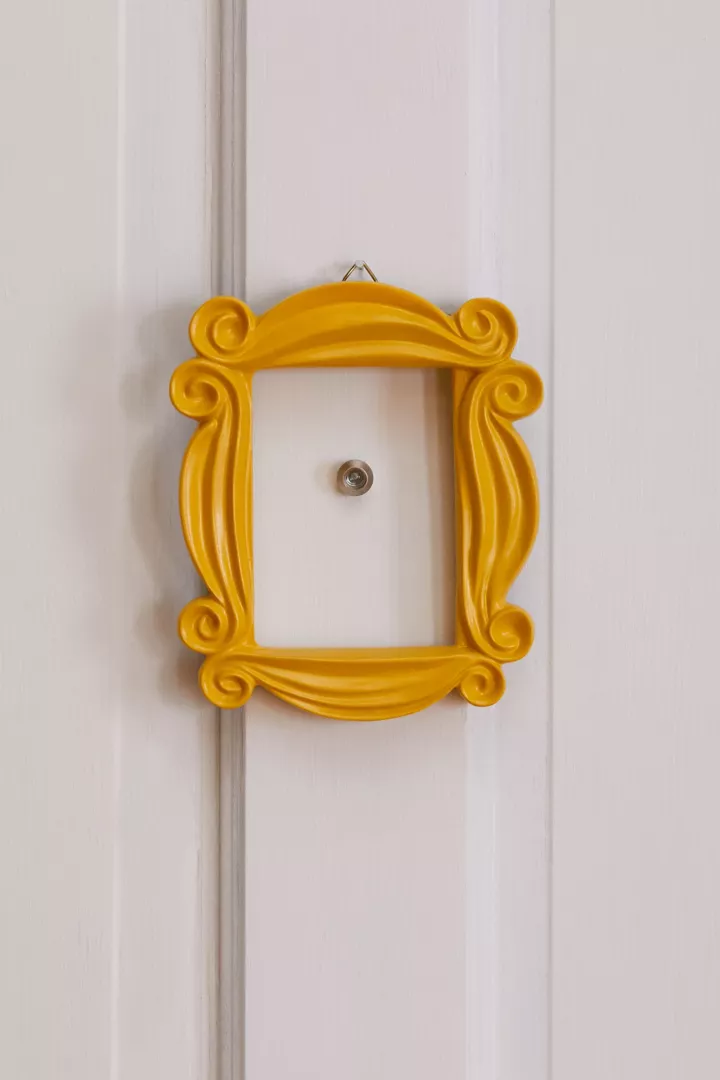 Smart Self-Warming Mug. We want our cup of coffee hot, so we gulp it down, not giving ourselves enough time to enjoy it. And often, we get sidetracked with life or notifications, and by the time we get back to our mug, it's freezing cold. Never again!
The Ember mug delivers a perfect temperature on demand. You can switch from 120°F to 145°F with the simple touch of a button. The battery lasts up to 1 hour and plugs into any USB port for quick charging at your desk or in your car. Or you can keep it on the charging coaster for a warm mug all day long.
Safe to wash by hand, the Ember mug can be paired with your phone so that you can always make sure to have your perfect beverage at the ideal temperature waiting for you at any time.
Sunrise Alarm Clock Wake Up Simulator. If you're tired of the alarm clock screeching or your phone's alarm going off in your ear when you're fast asleep, this might be just what you need. This sunrise simulation gradually and naturally brightens and warms up, which makes waking up easier than ever! The sunrise will emit a subtle light that is much closer to natural sunlight than fluorescent lights or normal lightbulbs for a softer awakening. And the sunset function allows the light to dim gradually at night, helping regulate sleep cycles much better without the blue light of your screens and the glare of your ceiling lamp keeping you up at night.
It includes a digital radio and a selection of natural sounds to help you ease into your day or wind down at night or for an evening nap as you prefer. You can also set two people on different alarms so that you can both wake up when and how you want without interfering with each other's alarm schedules.
Take control of your sleep and give yourself permission to wake up happy and rested with this sunrise simulator.
Compression Packing Cubes. Traveling is a pleasure that we can't wait to get back into. But packing is one of the most unpleasant parts of the whole experience. You never seem to have enough space for all your belongings. Especially when you're packing at the end of your trip and it feels as if your items have magically multiplied while on vacation.
Don't let a lack of space stop you from packing all your items for a trip. These smart compression storage and travel bags make it easy to pack more of everything, giving you up to three times the packing capacity. Perfect for long holidays, maximizing your carry-on, camping, or even storing clothes at home.
They're both air and water-tight, made from durable materials, and the ingenious compression system means that you can use them without needing a vacuum or pump.
So next time you fly, drive, or head off to your favorite destination, take these packing cubes with you. You won't know how you lived without them for so long!
Color-Changing Aromatherapy Oil Diffuser. Lay down your troubles and relieve stress with the magical combination of the beautiful scents of an aromatherapy diffuser and a little bit of color light therapy.
Add some color and creativity to your home décor with this exquisite, golden-toned two-part essential oil diffuser. Featuring a clear top half that changes color and a gold-tone bottom, this diffuser will blend easily into your existing home decoration. It is a charming way to release an array of relaxing oils delicately throughout the atmosphere of your home.
The internal light changes colors for added visual appeal, ensuring that you can enjoy hours of relaxation and feel your troubles melt away.
A nine-hour run time with automatic shut-off means that you don't have to worry about refilling the diffuser or checking to make sure it stays on during the day. And you can rest easy knowing it will switch itself off at night once it's rocked you to sleep.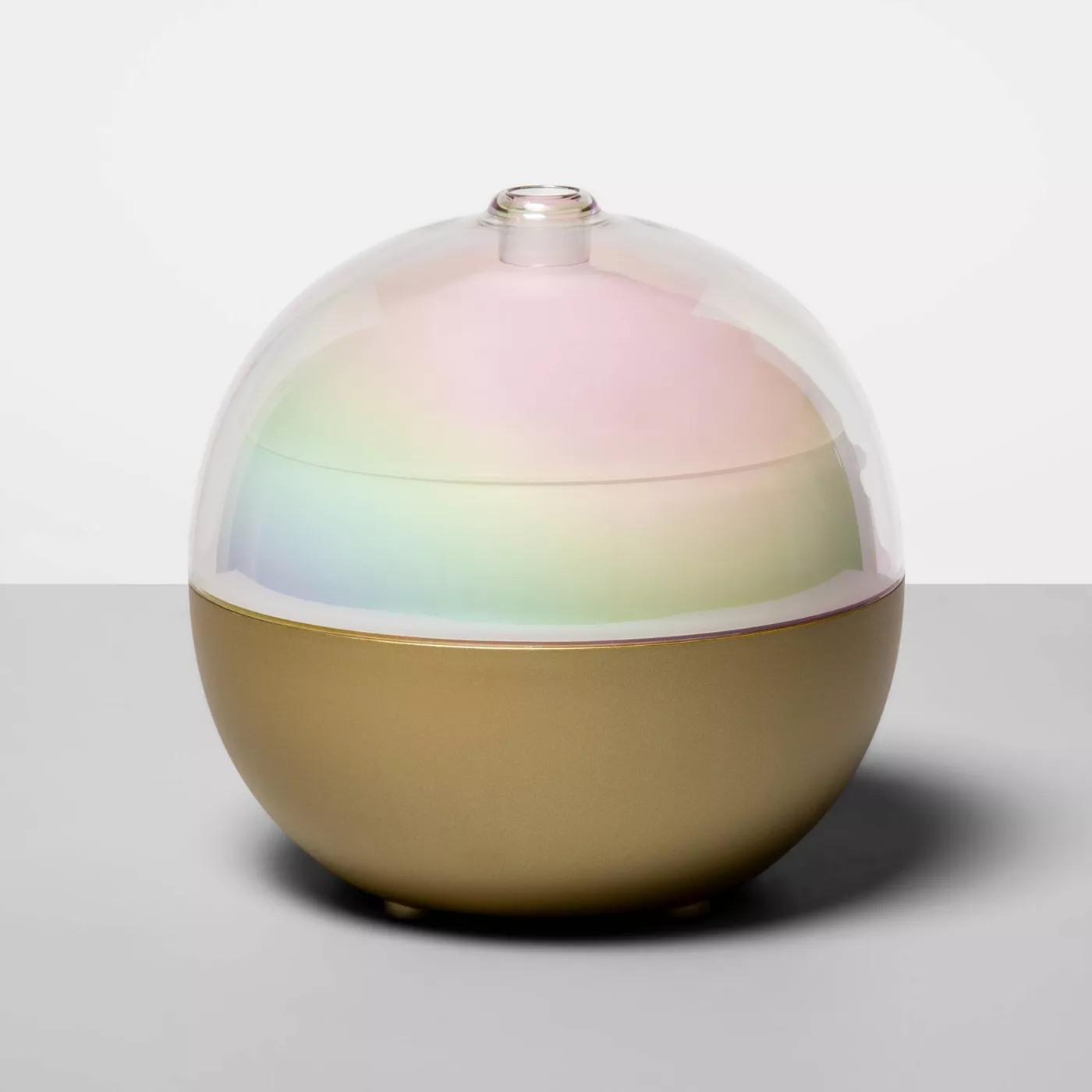 Silicone Stasher Bags. In a world where we're inundated with images of oceans and rivers drowning in single-use plastics, we all want to do our part to help. But let's face it, it's not always easy to find alternatives that are truly practical and fit our needs. Enter the Stasher food storage bags!
Stasher Bags are all the rage right now, as the world's first fully functional, self-sealing, high-quality alternative to single-use plastic bags. Made of Platinum Silicone, Stashers are reusable and can keep your food safe from contaminants in the fridge, freezer, or in your bag to carry your snacks or lunch around.
With features like an innovative air-tight Pinch-Loc TM closing system, you will never have to worry about leaks or spills ever again.
These Stasher Bags are also dishwasher and microwave safe. Plus, unlike traditional single-use plastic bags, Stasher bags contain no BPA, no PVC, and no latex, so they are safe to store your food without the worry of contaminants permeating through them onto what's inside.
This is an exceptional gift idea that will not only provide its recipient with some of the coolest new kitchen gadgets on the market but also help them keep the environment a little bit cleaner.
Reusable Notebook. The Reusable Smart Notebook Erasable Notebook will change how you take notes for the better. Featuring a set of erasable ink pens, with both lined and dotted pages included, this awesome invention is the last notebook you'll ever need to buy. Ideal for all types of artists or professions, this eco-friendly interactive writing tool will spark your creativity and is perfect for the classroom, home, or office.
Not only is it great for daily personal use, but a good choice for your work as well, perfect for sketching, brainstorming, writing, or taking meeting notes. You won't have to worry about wasting paper ever again with the notebook being reusable over 500 times!
Save time, money, and the environment with a stylish reusable erasable notebook. And it comes with a free scanning app so that you can quickly upload anything you need to your favorite cloud software in pdf or jpg form. You'll never lose your ideas or sketches again.